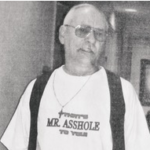 Raymond "Ray" Arthur Hudson made his last wildly inappropriate comment on May 24th 2021.
Born in Coaldale, Alberta on March 20, 1950, Ray leaves behind the legacy fitting of a great man, father, and grandfather. The eldest of six siblings of the late Kenneth and Florence Hudson, and is survived by two sons, Brad (Tara) and Colin (Ruselle) Hudson, of whom he was tremendously proud of, three grandchildren who were the only people who could ever successfully boss him around, and his brothers Kenny, Don (Anne), Hugh (Wendy), and Bruce (Naomi). He is predeceased by sister Linda (Les).
Ray was not one for travel, but he valued his relationships, and put greater emphasis on being a person who showed up for the people in his life. He maintained a correspondence with penpals Joy and Owen Bowers in New Zealand that dated back to his elementary school years.
Saying goodbye, however, was not Ray's forte. In life, it was sneaking out from a party when no one was looking. That philosophy carried over in his passing, and was no more evident than in the case of learning of his grand exit, his good friend Jim Gormley remarked "Ray always said he would do anything to avoid giving my eulogy."
Ray found great purpose in his work, no matter the employment, and made an impact wherever he went. He had an eye for process and logic (oftentimes his own), and for learning how things around him in the world worked. But to know him, he was more than any job or career. Infamous for his hesitation with the usage of patience and his near-biblical levels of candour, the larger truth was that he used the cover of cantankerous old man to protect something much gentler about himself, which his family often saw in him with his grandchildren. He loved fiercely and in no half measures. Coupled with his prolific vocabulary of profanity, one might argue that he loved four-letter words as much as he did his grandchildren, and took great joy in educating the Hudson family's youngest generation on the alternative slang, despite pleas from their aggrieved parents.
A practicing Wiccan, Ray did away with a lot of traditionally Western approaches to end of life customs. He had emphasized to his family that in lieu of a funeral, he should be cremated and anyone inclined to do so could make charitable donations to the Stollery Children's Hospital Foundation. Everyone who remembers Ray is asked to celebrate his life in their own way and the family encourages you to share your own story about the beloved man we warmly refer to as "Mr. Asshole" below.