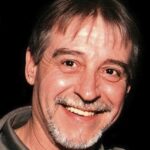 On August 26th, with the same grace and fortitude that he lived his life, our Rick passed away at age 64. As was his wish, he was in the backyard "oasis" that he created, surrounded by his family. He leaves to lovingly remember him: his wife Marilyn; sons Kyle, Zachary and Aaron (Savannah); granddaughters Zoe, Jayden, Jordyn and Dia; dad Eddy; Sister Jill (Greg); brother Rodd (Zan); father-in-law Larry; sister-in-law Rhonda (Garth); nieces Gracie and Serena; nephew Jon (Crystal); great nephew Logan; numerous extended family, friends and colleagues and of course his current fur babies Wyatt and Abby. Rick was pre-deceased by his mom Ruth and mother-in-law Joanne Bryeide (Lars).
Rick was born in McLennan, Alberta where he enjoyed a childhood that many today would envy. Times were different in the 60's and 70's, especially in small-town Alberta. Kids were free to roam, doors were left open and neighbours knew each other. Parents knew all the kids in town so it was difficult to get away with anything, but in Rick's case that was not a worry because he spent his growing-up years in the bush with his best friend, Grant. They would head into the bush after school and on the weekends. They would often camp overnight. They wouldn't even take any food, but rather live off the land – perhaps with a mud hen (otherwise known as a duck) that didn't escape their sling shots, BB or pellet guns. Rick's parents often didn't even know where they were headed and would watch them walk down the alley, together with Rick's other best friend; his black lab Prince. They would always come back home dirty, sweaty, and smelling like a campfire. It was hard to tell who was more tired – Rick, Grant or Prince. Rick loved
nature and the outdoors. That only changed when at age 16 he decided he might like to chase girls instead of animals. He traded the bush for a 1966, 2-door Ford Fairlane, jacked up with mag wheels, in which he would tear off to the neighbouring towns (Falher, Girouxville, Donnelly), or wherever his current new love interest lived.
In 1976 when Rick was 18, after a scrap with his Dad the direction was "Go to the city and get a job", with the expectation that he would be back in a couple of months with his tail between his legs, begging for forgiveness. What his Dad didn't know was that "job" would become his life's work. Rick spent 46 years at Comco. Over the years, he grew from an employee to a mentor and a respected member within the industry. The only thing that you had to learn when working with Rick was his 3-strike rule. This went for his colleagues as well as his children…you know who you are! There were times during the years that his required 8-hour day would turn into 10,12,14…16 hours. In the days before work from home, he would arrive to the office before anyone else, lock the doors when he left and come home for a few more hours, just needing to "tweak this one bid" or "finish this one last thing". Although he had worked the day before he passed, his final Comco duty was in a text to Marilyn at 7:13pm (who was sitting right beside him): "Text or email Steve and Kyle. I didn't change my out of office." This was not only his sense of humour in full display, but also his commitment to the company that meant so much to him.
Having said this, his work never took precedent over his family. Rick met Marilyn when she started at Comco in 1978. Their initial interactions could only be described as a
battle of the wills. Two very different personalities, but that spark was there. By 1980, it was apparent that they would spend their lives together. They married in 1982 and
welcomed their sons in quick succession starting with Kyle in 1984, Zach in 1985 and Aaron in 1987. Needless to say, these were busy times. Rick was a dedicated father,
always taking the 2:00 am shift so Marilyn could get some rest. He never met a diaper that he wouldn't take on! Through the years, Rick would do whatever he could to support his family; clean-up after a family gathering, laundry every Sunday and assistance with the crazy "projects" that Marilyn would get him involved in. As the boys got older, and at one point all three were in hockey, he would often remark that there were only a few more rinks in Alberta that he hadn't seen yet. His only regret in those early years was that they didn't have a daughter. To his delight, he eventually was blessed with 4 grand-daughters to spoil.
Rick was a gambler, he enjoyed the slots, his weekly lottery tickets and any reason to
purchase a ticket. "We're helping a charity," he would often say.
Although he wasn't a fan of flying, he was lucky enough to have seen many places in the world during his travels with Comco. He also looked forward to the annual trip to Arizona to visit Marilyn's Aunt Lynne and Uncle Terry. There he became a master
margarita maker as Lynne's bartender for the yearly Mexican Fiesta. Rick was not a big drinker but of course he would have to sample, just for quality control. One year, Terry suggested that they drive to the Grand Canyon and take the helicopter tour. To
everyone's surprise, he agreed. He would later remark that of all the experiences he had in life, this one brought everything into perspective: "How very small and insignificant a person is in the scheme of things when you look out over that grandeur."
He was absolutely wrong about that. One good person can effect everyone they come in contact with. Rick was one of these people. He loved fiercely, cared deeply for others, and was always there to lend a hand if needed. In the last months of his life when he could no longer speak, he wrote. He wondered if he had done enough, if everyone that he loved knew how much he did, and if he had made a difference in the world. We did all we could to make sure he knew that he had. His legacy will continue with his family, his Comco Family, and all of those that he touched.
We would like to thank Dr. Trent Dusang, Dr. Hadi Seikaly and Strathcona Homecare for their compassionate care of Rick.
Rick always had a four-legged friend. If you wish, please make a donation in his name to the animal rescue of your choice.
Rick asked that there not be a formal funeral, but instead he requested, "Just have a
party". The family will be hosting an Open House on September 10th, 2022 from 11:00am – 5:00pm. Please email rdidow@shaw.ca for location and to let us know if you will be attending.