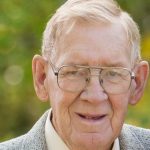 With great sadness, the family of Robert Allen Kemp announces his peaceful passing on December 14. We take comfort in knowing he was lovingly greeted by Frances (Frankie), his wife of 46 years, and they are together again.
Robert is fondly known by his friends as either Al or Red – owing to his trademark shock of red hair. Born February 28, 1933 in Kisbey, Saskatchewan, he lived each one of his 87 years to the fullest. Left to honour and celebrate his life are his children, Sandra Kew (Allen) and Craig Kemp (Wendy); granddaughters Kandice Kew Ashmore (Blaine Ashmore), Darci-Rae Kew and Ashly Kemp; and great-grandchildren Valerie, Alyssa and Elijah. Al loved animals, and he will also be dearly missed by several very special furry companions.
From a young age, Al worked through ranks of CP Rail in Saskatchewan, helping to keep the trains running on time and the grain cars full. During his 35-year career, he was posted in Broadview, Regina and Weyburn, all while he and Frankie raised Sandra and Craig.
Not one to be idle, Al loved to give back to his community, serving on town council and the school board in Broadview. In Weyburn, he and Frankie enjoyed providing a second home to young hockey players as billet family for the Red Wings – the beloved hometown Junior A team. He was also an active member of the Elks, Lions and Freemasons.
Al was a jack-of-all-trades and excelled at working with his hands. Over the years, he enjoyed numerous carpentry, electrical and construction jobs – including helping to build Sandra and Allen's first home in Yellow Grass.
Throughout his life, Al relished friendly competition and sports of any kind. What he didn't play, he watched. He especially enjoyed hockey, both as a coach and a fan. In his youth, he loved to golf, bowl, curl, hunt and fish. He was also an avid – and skilled – pool player. In recent years, he played competitively with Triple "E" and Wal-Mac pool leagues in Edmonton, where he met many new friends. His skills and sportsmanship earned him numerous individual and team awards, including several city championships, and took him to a memorable tournament in Las Vegas at the sprightly age of 75.
Al also loved to play board games and cards – from poker to crib to solitaire, and everything in between. He is likely enjoying a heavenly game right now with Frankie and other dearly departed, including his father, Robert; mother, Theresa; brothers Ernie, Clarence, Harold and Lloyd; father-in-law William; mother-in-law Cora; and numerous other friends and family.
In 1998, Al and Frankie moved to Edmonton to be closer to their children and grandchildren. This gave him many opportunities to meet new faces, and to spend treasured time with loved ones. Al will be greatly missed by countless friends, family and neighbours. A memorial service will be held at a later date, when we can all safely gather together and celebrate the richness of his life. In lieu of flowers, the family gratefully accepts donations in Al's memory to the Canadian Cancer Society, or any charity of your choice.