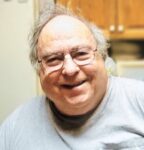 Robert (Bob) Montague Meyer passed away suddenly January 13, 2023.
Predeceased by his parents, and sister in law, Bob leaves behind a daughter, son in law, grandchildren, spouse, brother, sister, nieces, nephews and a grand niece.
Bob was born August 21, 1946 in Regina, Saskatchewan to Monty and Cathey Meyer, the oldest of their three children. When Bob was a young man, Monty and Cathy sold all their belongings, purchased a sailboat and with their now almost grown children, sailed around the Caribbean and Mediterranean seas for two years before returning to Canada and resettling on the west coast. This adventure was often recalled fondly by Bob and sealed his love for traveling to warm climates.
Bob spent most of his working life as a caregiver for disabled adults. The impact he had on the individuals he cared for and their families was significant. Bob was a patient and fun loving father, always ready to spend time playing board games, biking, skiing or mini-golfing. Bob was also an avid golfer, and perhaps his only real disappointment in being a parent was that he couldn't instill his love of the game in his daughter.
Bob's good nature and sense of humor will be missed by his family, friends and
colleagues.
Cremation has taken place and a memorial service will be planned at a later date.