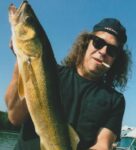 It is with deep and overwhelming grief and sadness that we
announce the passing of Robin Scott Graham Hodgetts on October 17, 2022 after a brave and difficult battle with
pancreatic cancer.
He was predeceased by his father, Graham. He is survived by his loving wife of 34 years, Karen, and their 3 children, Cassandra (Jason), Kyle, and Matthew. He also leaves behind his mother, Gloria, older sister Terra (Dwayne) and older brother, Blair (Karen). He will be missed by many family members and friends.
Robin was an incredible man. Born to Gray and Gloria Hodgetts on May 31, 1965, he was the youngest of 3 children. He met his wife when he was 16 years old, and they have been together ever since. Robin grew up working for his dad, eventually going on to become a master machinist and president of the family business, Grayling. He grew up loving all types of music and learned many different instruments throughout his life. He picked up piano, bass guitar, drums, and the guitar. He also loved to sing and played in multiple bands throughout his lifetime. He passed his love for music down to each of his children.
Robin was made to be a dad, and was a fantastic father to his 3 kids. He had a deep love for his family, and was an extremely active part of everybody's lives. He was very proud of his family and never missed an opportunity to say so. Robin was always there to lend a helping hand to anyone in need, and made every effort to give his family the best life. He touched countless lives through his kindness, wisdom, and compassion. He developed deep bonds with the people he loved that lasted a lifetime. Robin made sure that
everyone around him knew how much he loved them. He will be greatly missed by all.
In lieu of flowers, the family asks that any donations be made by directing your donation to Pancreatic Cancer Research through the Canadian Cancer Society in Robin's honour. Donations are not expected but appreciated.