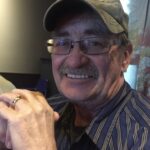 BOISVERT, Ronald Real (Ron)
November 5, 1956 – April 26, 2022
It is with heavy hearts and immense sadness that we announce the unexpected passing of Ron Boisvert, of Athabasca, on April 26, 2022, at the age of 65, with his family by his side.
He will be lovingly remembered by his wife of 35 years, Thelma; daughters, Tracy (Dean) Shebansky, Tammy (Albert) Hope, and Janice Shebansky; grandchildren, Tamika and Taylum Hope; Dad, Real Boisvert; brother, Gordon (Sandy) Boisvert; step-sister, Janie Stremel; step-brother, Chester (Kim) Harris, as well as nieces, nephews, relatives, and friends.
Ron was predeceased by his mother, Evelyn (Johnson); step-mother, Evelyn (Harris); mother and father-in-law, Phyllis and Rene Milot; brothers-in-law, Rob Milot and Carl Damon, along with aunts and uncles.
Ron was a loving husband, father and grandpa. He enjoyed spending time outdoors, ski-dooing, camping, and being known as "Mayor of Jackfish Lake" for 17 years. He had an amazing sense of humor and loved making others laugh. Ron always had time to visit and enjoyed talking with anyone—whether you were a stranger or not. He was a great friend to so many and will be deeply missed by all.
A Celebration of Life will take place at 1:00 pm on Saturday, June 4, 2022, at the Colinton Community Center.
In lieu of flowers, donations may be made in Ron's memory to the Multiple Sclerosis Society of Canada or to the Athabasca Healthcare Centre Auxiliary Association.