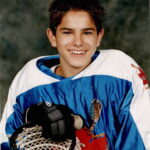 Shane Leonard Bakewell died unexpectedly in hospital on January 2, 2023 in Edmonton.
Shane is survived by his father Gerald Bakewell; step-mother Sandra Werner; and siblings Troy (Sherri) McEachern, Sheldon (Victoria) Bakewell, Shaun Bakewell (Ashley), Sateen Werner, and Dustin Werner. He was predeceased by his birth mother Laurie Ann Wyley.
Shane was born in Edmonton on February 27, 1990. An athlete in his youth, Shane played hockey with the Mayfield Tomcats and in Blues lacrosse, but his true passion was soccer. Though he sometimes needed to be bribed to leave the house with the promise of a DQ root beer shake, Shane always played his heart out once he made it to the field. After graduating high school, Shane worked in framing construction with his Dad, and in construction labour with Synergy Construction.
A Memorial Service for Shane will be held on January 28th, 2023 at Mayfield Community Hall, 10941-161 Street, Edmonton, at 1:30 p.m.
In lieu of flowers, if you are so inclined, please bring clean, new socks and underwear for donation to Edmontonians who are experiencing homelessness. Alternatively, if you
cannot attend the service but would like to make a donation in Shane's honour, donations to the Bissell Centre's Drop Your Gonch campaign or to The Salvation Army Edmonton Centre of Hope are welcomed and appreciated by Shane's family.
Sandra and Gerald would like to extend their thanks and gratitude to the ambulance
attendants and hospital staff who took care of Shane for their efforts and comfort at a time when he needed them.