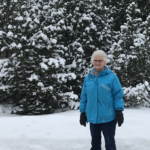 We are saddened to announce the passing of Shirley Ann Kopp, after a brave battle with cancer. She was predeceased recently by her dear friend Sharon Bunnin (Sherwood Park AB), Parents Henry and Dorothy Kopp (Bekolay) of Turtle Lake SK, numerous aunts and uncles on both sides of her family. Survived by Uncle Clarence and Marilyn Bekolay (Edmonton AB) and Aunt Patricia Bekolay (St Albert AB)
Surviving are her brothers and sister, Gordon and Karen Kopp (Turtle Lake SK), Calvin Kopp (Holbein SK), Marilyn Kopp and friend Ken (Viking AB), Curtis Kopp (Turtle Lake SK). Nephews Todd and Brenda Kopp (Brandon and Carter) Saskatoon SK) Craig Kopp (Aiden)(Prince Albert SK), Shawn Kopp and friend Karen (Calgary AB), Scott Fraser (Cumberland BC), Andrew and Danielle Fraser (Bonnie and Cameron)(Calgary AB). Nieces Nicole Kopp Hendry and Shawn Hendry (Skyler and friend Robyn)(Calgary AB), Christina Fraser and friend Trevor Cox (Toronto ON), Samantha and Robson Cameron (Mason)(Red Deer AB)
Shirley was and will always be remembered as a kind, honest, loving, and giving person. She made the world a better place for a all that knew her. Shirley was truly admired and walked her own path; she included anyone who wanted to walk beside her, sharing her laughter and her passions with kindness and of authenticity. The odd joke arrived at
unexacting times as well. Shirley loved nature and photography and was never far from her paint brushes. She captured all images in her own way and put them to canvas.
Shirley received her education from the Livelong Elementary School and Turtleford High. She pursued her own multiple paths in horticulture, as a Painter, Writer, (Published and Illustrated her own book- "Jenny Wren, The Special Thank You") Curled, Swam, Golfed, Skated in boys skates ONLY, Skied downhill and cross-country, just an all round athlete. Unfortunately, her Pet Peeve was she grew up in the age when girls were not allowed to participate in "boys" sports as they can now. Shirley was a bone marrow donor and
volunteer at CanSurmount in honour of her mother, saving the life of another.
Shirley had special bonds with many of her friends and was very appreciative of all the visits, caring, and meals delivered the past few months. Helen Loehr, just a special angel, was Shirley's go to person when her sister was not present; they shared a special bond. Other special moments in Shirley's life were filled with time spent at her cabin at Turtle Lake where she grew up, cheering on the Edmonton Oilers, pet sitting and walking her friends and families dogs, and she taught many budgies to talk. She attended all family events for her brothers, and sister and their families – soccer matches, curling bonspiels, hockey tournaments, baseball games, live theatre, tap, jazz, cheerleading, and gymnastic events, graduations, birthday parties and weddings.
A Celebration of Life will be held at Glen Allen Recreation Complex, 199 Georgian Way, Sherwood Park, upstairs where she curled. On September 23rd, 2023 at 10:00 AM. At the family's request, please do not send flowers.
In lieu of flowers, donations in Shirley's Memory will be gratefully accepted to Capital Care Strathcona (Harvest House Recreation Fund) #2 Bower Dr. Baseline Rd, Sherwood Park, AB T8H 1V4 or any charity of your choosing. IE: SPCA, Cancer, Abused Women.