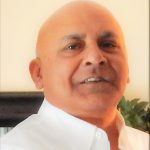 Ramsaran, Steve – July 12, 1953 – September 29,2020
It is with great sadness that we announce the passing of Steve Curtis Ramsaran who died on September 29th, 2020. Steve was born in Trinidad to parents Festus and Sheila on July 12, 1953. He is survived by his son Eric, daughter in law Danielle and his two grand-daughters Tyra and Shane. He is also survived by his siblings Carol(John), Clyde(Lana Dawn), Clano(Zena), Colin(Sherryl),Ronald(Jennie) and Darryl(Marciel).
He will be affectionately remembered by his nieces and nephews, Caroline, Dwain(Jenny Lyn),Petal(Ben),Dale, David, Sarah, Mark, Justin, Dominique, Stefan and Stephanie. He was a Great Uncle to Tariq, Jude, Callie, Nico and Amaya. He will also be missed by his cousins and close family members Jocelyn, Clive, Pearl, Glen, Isabelle, Sherryl, Dale, Kerry, Derek, Mel, Kenrick, Famida, Joanne, David and Betty Sewal. Steve will never be forgotten by his friends, Spencer, Vidya, Ron, and Alma to name a few. Steve will fondly be remembered for his love of family, BBQ's music, sports and his big heart. He was truly a social butterfly and will be missed by all who knew and loved him.
POEM- MISS ME BUT LET ME GO
When I come to the end of the road
And the sun has set for me
I want no rites in a gloom filled room
Why cry for a soul set free?
Miss me a little, but not for long
And not with your head bowed low
Remember the love that once we shared
Miss me, but let me go
For this is a journey we all must take
And each must go alone.
It's all part of the master plan
A step on the road to home
When you are lonely and sick at heart
Go to the friends we know.
Laugh at all the things we used to do
Miss me, but let me go.