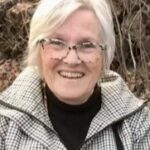 Susan passed away surrounded by family on June 30th 2023 at the age of 77 years. Predeceased by her loving husband of 49 years Ron Svarich.
Sharing in mourning her loss include siblings Grant (Rita), Avril, Pam (Terry), Greg (Debbie), Mignonne (Garry), George (Wendy), brother in Law Doug. Not to mention 25 Nieces & Nephews, 30 Greats, 2 great greats and Countless friends and colleagues. One very special lifelong Friend Bernice Briggs and her entire family.
Sue was a career teacher both in the classroom and to all around her, especially the
family. She so loved all the kids and developed special relationships with each one.
Sue loved animals, in particular , Horses. Her life revolved around them and niece Leah is caring for her one surviving horse.
She was one of a kind, lived life her way and to the fullest.
A LIFE WELL LIVED!
A celebration of Susan's life will be held September 9th beginning at 1:00, 51509-RR222. This is a celebration, please come casual and with all your stories about Sue.