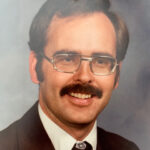 It is with great sadness that we share that Svend Aage Schmidt, 74, of Sherwood Park, Alberta, passed away suddenly on Monday June 6, 2022 at his home. As per Svend's wishes there will be no funeral and a private small family celebration of life will be held.
Svend was born January 16th, 1948 in Copenhagen, Denmark. He graduated from the University of Alberta in 1972. Svend was employed first as a teacher and then a principal with Elk Island Public Schools for over 30 years. He was a leader in his profession and highly respected. He loved his job, his colleagues and the community he served. He was an advocate and mentor for all his students. They meant the world to him.
In his leisure time Svend enjoyed traveling the world, and especially visiting California with his family. He enjoyed talking politics and finances, playing games and spending time with his children and grandchildren. He was a master at chess and crib and was seldom beaten. Everyone tried but ultimately failed.
Svend is survived by his loving wife of over 50 years, Frances; daughters, Michelle Planden and Heather (Roger) Lockwood; and son Mark (Kathleen) Schmidt; grandchildren, Eric and Alex Planden, Ethan, Ashley and Joshua Lockwood, Harley, Eva and Molly Schmidt. Svend will be remembered fondly by his sister; Joanne (Paul) Godfrey, and his brother; Torben Schmidt.
He was predeceased by his parents, Emil and Tove Schmidt.
There is a sacredness in tears,
They are not the mark of weakness, but of power,
They speak more eloquently, than 10,000 tongues,
They are messengers of overwhelming grief,
Of deep contrition and of unspeakable love.
Condolences can be shared on the funeral home website under obituaries; simplycremations.com