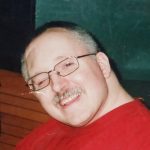 Thomas Andrew Bakke (Tom)
June 24, 1967-May 15, 2020
"The world has only one sweet moment set aside for us"
It is with great sadness that the family of Tom Bakke announce his passing at the age of 52.
Tom will be remembered as kind and welcoming to family and friends, both into his life and his home. He demonstrated great love of family and loved having company. He was available at a moment's notice for a rousing game of hearts, joker, crib or hangman, and always ready with enthusiastic trash talk and witty comments to accompany those games. He loved to listen to music ; Jethro Tull, Motley Crue and Queen were in heavy rotation and could often be heard throughout the house. His wolf collectibles gave him much joy and expanded every year. While he did encounter some challenges in life, he was always good humoured, easy to please and wanted those around him to be happy most of all.
Tom's love of family, his sense of humour, and his kind and generous heart will be deeply missed.