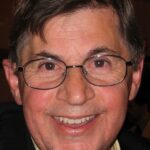 THOMAS KEITH PORTER
Edmonton
Thomas K. Porter, 73, passed away March 21st, 2023, after losing his fourth battle with cancer. He went peacefully, surrounded by his Wife and Children at the Norwood Capital Care Hospice.
He was born on July 25th, 1949, in Oxford Township, Grenville County, Ontario. Thom graduated from South Grenville High school in Prescott, ONT in 1967. After high school he worked for Newells Manufacturing where he worked for 8 years full time, and continued working summers, while attending the University of Waterloo from 1974 to 1980. During this time working at Newells, he met the love of his life, Bonita Porter (nee Vail). He graduated from the University of Waterloo in 1980, with a Bachelor's Degree in Mathematics. Thom and Bonita were married in June of 1980 and subsequently moved to Edmonton, Alberta, where Thom started with Government of Alberta. They had 3 Children, Kristopher (Born 1983), Jennifer (Born 1985), and Lindsey (Born 1987). They lived in a few different places during their time together, including Calgary, Lac La Biche, back to Edmonton, Victoria, and then back to Edmonton for a final time. Thom Retired from the Alberta Government in 2016, after 29 years of service.
Thom was a long time Montreal Canadiens Fan; he even had season tickets to the Forum as a young adult, where he was fortunate to see some of the greats play. If he wasn't watching Hockey, then he was watching football and cheering for the Hamilton Tiger Cats. He was a Loyal Fan until the end.
He is survived by his wife of 42 years, Bonita Porter (nee Vail), their 3 children; Kristopher Porter and his significant other Samantha Bigelow, Jennifer Porter and her significant other George Baker, Lindsey Nesvold (nee Porter) and her Husband Jesse Nesvold, Thom's 6 Grandchildren; Karsten Porter, Brenten Porter, Adley Porter, Noah Porter, Grayson Nesvold, and Liam Nesvold, Thom's 3 brothers Gary Porter, Dave Porter and wife, Nancy Porter, and Wayne Porter and wife, Cara Porter, and many nieces and nephews.
He is predeceased by his Parents Keith Allan Porter and Sylvia Belle Porter (nee Earle) both in 2002.
Thom was first diagnosed with Cancer in February 2006, and battled cancer 4 times over the past 17 years. In lieu of flowers, the family asks that you make a donation to the Alberta Cancer Foundation. The Link can be found below.
A memorial will be held at 1:00pm on Wednesday March 29th at Riverbend United Church 14907 45th Ave NW Edmonton, Alberta.