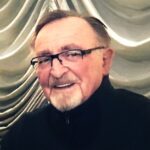 August 15, 1930 – April 21, 2022
It is with heavy hearts that we announce the passing of Walter Lukay at the age of 91.
Walter was the first born of John and Mary Lukay in Mannville, Alberta and grew up on a farm located 6 miles SW of Myrnam with his brothers: Frank and Casimir. Myrnam is where he began his career as a professional mechanic and welder.
After a move to Edmonton, he operated a Texaco gas station/auto repair in the Ottewell area for several years, then later a Petro-Canada gas station/auto repair in Millwoods. Dad was very dedicated, putting in many long hours at work to provide for our family. As kids, we have fond memories of summers at Pigeon Lake, several mountain camping trips, a trip to Hawaii and a very amusing road trip to Disneyland. Our best memories are those of numerous family gatherings, whether it be with the Lukay clan or Zayac/Zayak families.
After Mom's passing, Dad escaped several cold Edmonton winters by enjoying warm weather and the fellowship of his cronies in Mexico, thus the nickname "Mexico Dido". Dad knew how to fix anything and everything. He loved to fish and tend his garden. He lived independently in his home until he was admitted to the University of Alberta Hospital in November 2021.
Lovingly remembered, he is survived by his daughters Dianne Yan, Sandra Andriashek (Ken), and Sharon Lukay; grandchildren Tyler (Jessica) and Todd Williamson, Jill Adams (Mark) and Nadia Andriashek, and Peter and Christina Tomaras; and great-grandchildren Jack and Zella, Gwen, and Maya and Haven. Walter is also survived by his brother, Frank Lukay and numerous nieces, nephews, and extended family.
Walter was predeceased by his only son, Dennis Lukay, in 2019. Walter and Dennis are both survived by Dennis' children, Kimberly (Darren) Pariseau and Darrin Lukay (Laura); and his grandchildren (Walter's great-grandchildren) Jordyn and Devin, and Quinn.
Walter was predeceased by his wife Anne nee Zayac (2006); brother Casimir (2019); and parents John and Mary Lukay.
Cremation has taken place. A Funeral Mass will be held at St. Thomas More Catholic Church, 210 Haddow Close, Edmonton, on Wednesday, May 11th at 1 p.m., followed by a brief gathering in the church hall. Interment to follow at Rosehill Cemetery, located at 1605 141 St SW, Edmonton. Please click here to watch the livestream of Walter's Funeral Mass.
The family wishes to express their sincere gratitude to the dedicated staff at the University of Alberta Hospital, Leduc Community Hospital and St. Joseph's Auxiliary for their compassionate care. In lieu of flowers, the family would appreciate donations made to CNEWA, in support of humanitarian aid in Ukraine.