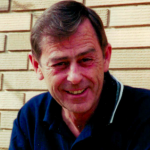 Your wings were ready but our hearts were not… on January 21, 2021 Wayne C. Stephen Chizawsky passed away, in the comfort of his Edmonton home, in the arms of his eldest daughter – Lesa. In his fast and furious battle with cancer, Wayne spent the last few weeks of his life surrounded by his 2 daughters (Kim Sellick & Lesa Fee), his son-in-laws (Wesley Sellick & Stephen Fee) and his 4 beloved grandchildren (Ty & Trinity Ehlers and Chase & Lexie Fee).
Wayne was lovingly known to many as "Cheezie" and could always be counted on to make time to lend a helping hand or a listening ear – usually over a beer – for any of his friends or family. He will forever be remembered for his ability to deliver one-liners that would leave you chuckling for days, even years. A favourite to many would be "Who's the best looking guy in this place; and why am I?"
Wayne had a long and rewarding career as a top salesman for Facelle Royale and various petfood companies. His good looks and charming personality served him well and he enjoyed the social aspect of his career. After his retirement he worked at odd jobs to keep busy through the winters but you would be more likely to find him hanging with his best buds at Richard's Pub or spending his summers at one of his favorite lakes.
Fishing was always a passion for Wayne and through the years it became a favourite hobby of the entire family. Everyone fought for time on the 'Misty River' fishing for walleye with Dad/Pappa. Often there was a two-bit bet and someone's reputation on the line!
Summer nights spent around the campfire will always be a fond memory – if you were one of the lucky few, you were able to listen to his favourite stories of his carnie days which may have even included a quick "hot dog song" complete with dance.
In addition to his daughters, their families and many amazing friends, Wayne will be lovingly missed by his brother Reg (Lynn) Chase of White Rock and sister Kim (Joe) Chizawsky of Kamloops. He is pre-deceased by his mother (Cecilia), father (Stephen), brother – Leonard Chase, sister – Judy Chizawsky.
A celebration of Wayne's life will be arranged later in 2021 when COVID restrictions have been eased and we can gather friends and family together to remember our amazing Dad.
Don't worry Daddy-O we will keep the Misty River afloat and the fishing tradition going – we all know the secret to catching the biggest fish: celery sticks and sparkly hooks. We love you – now & forever.