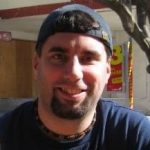 We are saddened to announce the passing of Wayne Williamson, devoted father, brave-hearted brother, and loyal friend. Wayne left our world Friday August 7th at the age of 45 after a hard fought battle with bone cancer. His spirit lives on and is strongly remembered by family and friends.
Wayne was the kind-hearted son of Agnes (Tom) and Ken (Darlene), devoted father to Austen, younger brother to Connie (Lee), caring nephew of Freda (Rollie), cousin to Dan, Debbie (Larry), Tristin, brother like friend to Bruce and Neil and many other family members and friends. Wayne's life was touched by many lives and he would want ever single person listed here but the list gratefully too long.
Wayne was especially gifted with the skill to emanate his love for the world and others through his talents for cooking. At a young age he found his way into the kitchen, creating his first signature dish – spaghetti sauce, his creativity never faltered. He shared his talent with all who knew and loved him. Watching others enjoy the feasts he created was one of his favourite pastimes.
Wayne had an innate ability to find and appreciate people around him (especially the ladies), he held compassion for those he encountered. He was generous, spending time with his family and loved ones, enjoying time with friends, and making sure those around him felt welcome.
Our family is sincerely thankful for the empathy and well wishes expressed by our friends, colleagues and peers at this time.