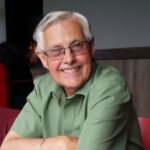 Bill was born on June 3, 1939, in Castor, Alberta and passed on October 31, 2023, in Edmonton, Alberta.
Bill is survived by his wife Marianne, his children Tim Tipper, Bill Tipper Jr (Roxanne), Heather Watson (Tipper) (Steve), Mike Schurek (Shari) and Chris Schurek (Shanta). Bill will lovingly be remembered by his grandchildren Kristi, Melissa, Matthew, Anthony, Jaedon, Emma, Hannah, Kasey, and Georgia, as well as his great grandchildren Jordyn, Kayla, Madeline, Maya, Jaxton, Kayden, and Zayden. Bill was predeceased by his youngest son Mark Tipper who passed in 1990.
Bill was an adventurous soul who lived across Canada, making homes in Nova Scotia, Yukon, British Columbia, Saskatchewan, and Alberta. Bill never turned down the opportunity to master a new job and worked over the years as pin setter in bowling alley, cab driver, barber, bartender, house painter, equipment operator and project manager. There was nothing that bill couldn't do once he set his mind to it.
Bill was a generous soul. He was generous with his time, his ability to forgive and his desire to show his love. He deeply believed in a life of service and for decades he dedicated time to the Kiwanis Club of Abbotsford. His time in Kiwanis brought him great joy and lifelong friendships. Bill worked at not holding grudges and often counselled us on the power of forgiveness. He believed that life was just a blink of an eye and there was not enough time to waste any of it on anger. Bill was a loving husband, father, papa, brother, uncle, and friend. He loved all his family and friends deeply and welcomed everyone with a huge smile and warm embrace.
He was the joker of the family, quick witted and had a wonderful sense of humour with a little bit of mischievousness added in. Bill loved a good 'discussion' (friendly argument) and loved instigating these to see our reactions. Wherever Bill went he made friends, made people laugh and created lasting memories. His family will miss him forever but know that it's just a blink of an eye until they see each other again.
A celebration to honour Bill will be held on Friday November 17th , 2023 at Saint Thomas More Catholic Church located at 210 Haddow Close NW, Edmonton, AB at 1:00 pm. There will be a lunch to follow. If desired, donations can be made in Bill's name to the Alberta Lung Association.