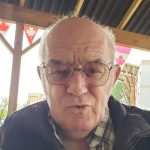 Willis (Bill) Dutkiwich March 18, 1942 – December 2, 2020
The family of Bill Dutkiwich are very sad to announce his sudden passing after a short battle with COVID-19.
He was predeceased by his grandparents Peter and Lois, parents Walter and Marjorie, brothers Robert and Kenneth, wife Rose and Son James Holowenko, Daughter Loreen Anita Dutkiwich.
Left to mourn his loss are son: Troy and Melodie Chalifoux, grandsons Jake and Matthew, daughter: Cynthia & Colin Town. Grandson: Ryan (McKayla) Town, great grandchildren: Keira and Daxton. Also mourned by sisters and brothers Nellie (Walter), Russell (Ethel), Marion (Ed), Randy, Sandy, Maria, Jill and their families with many nieces and nephews.
Bill can always be remembered by his quick wit, smile and smirk. He always loved to be doing something whether it be working or out catching up on the daily gossip at the Hinton Husky. After the passing of his wife Rose, he always did his best to keep everything as normal as he could.
The pride and joy of his life were his grandchildren and great grandchildren. He always wanted to know how they were and what they were doing. He beamed to hear that Jake had followed in his dad Troy's footsteps and made a career in law enforcement. He would always say "No one will mess with him."
He always had a story to tell about his travels and accomplishments in life. You could always depend on him no matter the situation. All you would have to do is sit down and have a coffee with him, let him know what the issue was you were having and he would help you figure out how to get through it or would help you if the situation called for it.
… Dad…
If I could write a story
It would be the greatest ever told
Of a kind and loving Dad
Who had a heart of gold
I could write a million pages
But still be unable to say, just how Much I love and miss him
Every single day
I will remember all he taught me I'm hurting but won't be sad Because he'll send me down the answers And he'll always be MY DAD
Bill will be greatly missed. Upon his wishes there will be no funeral services. He will be interred at a later day with his wife Rosie.
In lieu of flowers you can make a donation to your local seniors homes.