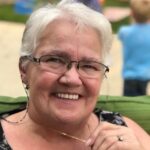 Debra Jenness Boles Caddel
It is with extreme sadness that Debbie's family announces her passing, on December 9, 2022 at the University of Alberta Hospital's Palliative care ward. Debbie suffered a stroke on December 2nd, an unexpected complication of shingles.
Debbie was predeceased by her husband of 50 years, Gordon John (Jack) Caddel on August 30, 2017, her brother Harry Albert Boles on July 3, 2015, her nephew Todd Michael Verbicky on April 15, 2011, her brother in law, David Anthony Williams on September 9, 2009, her mother Dorothy Robison Boles King on July 26, 2009, mother in law Charlotte Annair Wright Caddel on September 25, 1988, her father Allen Roy Boles on December 10, 1979, and her father in law Cecil James Garner Caddel on June 24, 1975.
Debbie was born on May 31, 1949 in Rocky Mountain House, Alberta, where her family owned a dairy farm; in 1957 they sold it and relocated to Edmonton. Other locations the family lived over the years were Drayton Valley, Grande Prairie, and Medicine Hat. In 1962, Dorothy, Debbie and Linda moved to Edmonton and then to Sherwood Park. Debbie attended school at Hardisty School and Salisbury Composite High School; many years later she achieved her GED designation with honors – it had always bothered her that she hadn't graduated from high school!
Debbie and Jack met when she was 17, fell madly in love, and married on July 29, 1967. Their first home was an apartment in Capilano, where they welcomed their first born son, Graham John Allen Caddel on October 6, 1970. They moved to Sherwood Park into Greenwood Village where they were blessed by two more children, Lynda Jenness Caddel (Wagoner) on January 19, 1973, and Bradley James Garner Caddel on January 8, 1976.
They purchased their home on Lueders Crescent in 1977, where Debbie resided until her passing. Her greatest love was her family, she always put their needs first, and was
extremely proud of her children and grandchildren.
Debbie's working life was varied, from office clerk for Alberta Social Services, Sherwood Park Bowling Lanes clerk/cashier, selling home liquid embroidery kits, and the job she was proudest of, office manager for CIC Inspection Services.
Throughout her life, Debbie was a crafty person, and mastered all crafts she chose to
attempt like sewing, crocheting, knitting. Her family treasures the felt Christmas
ornaments (teddy bears, ice skates, angels, etc.) that she put on her children's, nieces and nephews packages.
Debbie loved to play word games on her iPad, there was nothing she enjoyed more than waxing her opponents, especially sister Linda, and brother in law, Ted. She also played with Lynda, nephew Jason, nieces Kerri, Tracey, friend Diane, and many others!
In later years, she formed a circle of friends (Debbie never met a stranger) involved with her daily water exercises, an activity she was extremely dedicated to, saying how much better she felt after that daily routine.
Debbie had many pet cats and dogs over the years that she loved dearly, Ebony, and Harmony were her last furry companions.
Graham moved in with Debbie in 2018, honoring his promise to Jack to take care of his Mom. He was instrumental in her staying in their family home, as he says "I made her laugh every day!"
Debbie is survived by her children, Graham, Lynda (Justin Wagoner) and Bradley; her beloved grandchildren Rayne Jenness Caddel-Charette, Carl John Wagoner and Charlotte Evelyn Wagoner; sister Linda (Boles) Tony Martin; brothers in law Bob (Laurel) Caddel, and Ted (Martina) Caddel; sisters in law Vicki (Caddel) Ron Chilibeck, Iris Callaghan (Harry) Boles; as well as numerous cousins, nieces, nephews, and dear friends (Diane, Dorothy, Roy, Mary & Adelle).
A special heartfelt thank you to the nursing staff at the UofA, especially Davina for their excellent care, and to cousin Susan, and sister in law Martina for being with Debbie at the last, all incredibly strong women.
The family is planning a memorial later this spring, details to be determined. We will all miss Debbie's beautiful smile, her quick wit, and warm welcoming hugs. Rest in peace, Debbie.